Welcome to the Tea Tree Gully District Football Club
Tea Tree Gully District Football Club is an Australian Rules Football Club based in Adelaide's North Eastern suburb of Banksia Park.

The Tea Tree Gully Football Club holds the distinction of being one of the oldest operating football in clubs in Australia.
The clubs first recorded game was against 'The Adelaidians' near Modbury on August 30th 1862.
We now boast over five hundred Junior Footballers playing in twenty five teams and six Senior teams competing in A1, A1 Reserves, A7, A7 Reserves, Under 18 Mens and Under 18s Women.

Latest News and Achievements
Womens Club Players Profile- TBA

Junior Club Players Profile - TBA
Congratulations to the 2018 Division One Premiers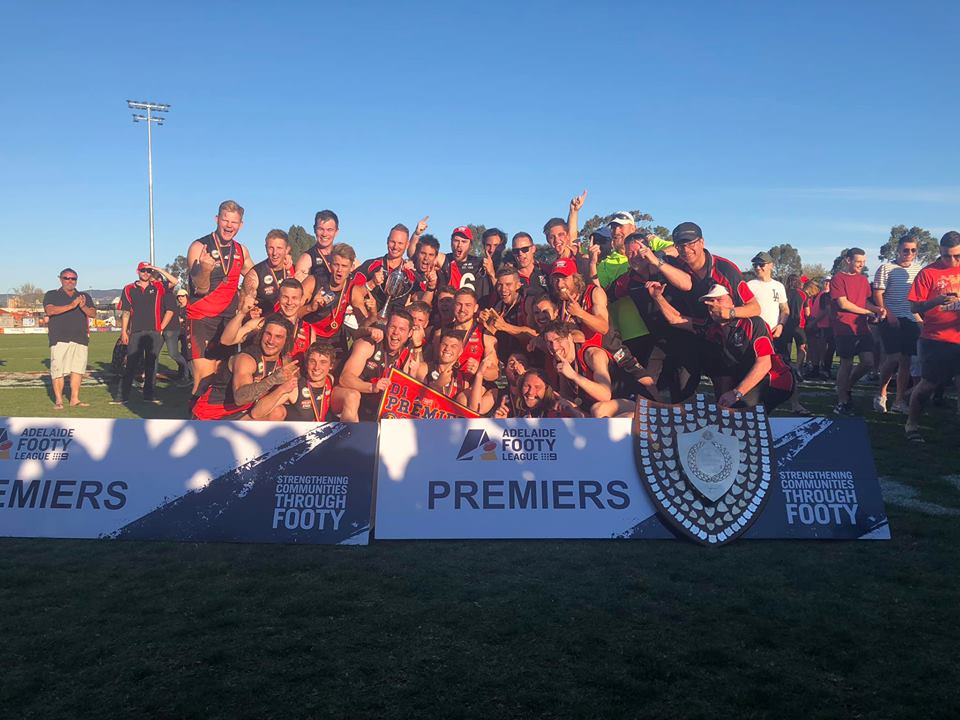 Tea Tree Gully 13 . 15 . 93
Rostrevor OC 9 . 9 . 63
Tea Tree Gully
Goal Kickers:
P. Persinos 3, T. Melville 3, R. Spittle 2, T. Menzel 2, Z. McKay, B. Penney, D. Klaebe
Best Players:
A. McKay, T. Menzel, D. Schoemakers, J. Flynn, J. Huggard
Rostrevor OC
Goal Kickers:
T. Baccanello 2, H. Commane 2, W. O'Malley, J. Butterworth, L. Manuel, P. Dawson, P. Fantasia
Best Players:
S. Jonas, K. Holland, J. Jordan, P. Fantasia, T. Baccanello
MAJOR RAFFLE ANNOUNCEMENT

TTGDFC Major Raffle has been drawn today at the Junior Presentation Day by the Senior President John Curley, Sponsorship Manager Bernie Flynn and Junior Committee Member Scott Mansfield and the winners are
The Evedure BBQ donated by Gas Works Modbury
Congratulations to

Bec Sawley

The Power Gym donated by Fitness Warehouse
Congratulations to Lesley Hugo
The Fire Pit donated by Gas Works Modbury
Congratulations to Christine Hanatschek
The Treadmill donated by the Fitness Warehouse
Congratulations to Deirdre Kiosoglous
The Trampoline donated by Sports Power Golden Grove
Congratulations to Vicki Coombe
The Benefitness voucher donated by Benefitness Fairview Park
Congratulations to Todd F
The School Block 1.5 litre limited Edition Cab Sav donated by Patrick's of Coonawarra
Congratulations to B Mann
The Paracombe wine packs donated by Paracombe wines
Congratulations to
Chris Bull
Sam MacDonald
Deborah Duncan
Thank you to all our Sponsors who have supported TTGDFC throughout 2018


January 21st men's senior preseason training is set to resume.
We have 2 new coaches for season 2019.