Welcome to the Tea Tree Gully District Football Club
Tea Tree Gully District Football Club is an Australian Rules Football Club based in Adelaide's North Eastern suburb of Banksia Park.

The Tea Tree Gully Football Club holds the distinction of being one of the oldest operating football in clubs in Australia.
The club's first recorded game was against 'The Adelaidians' near Modbury on August 30th 1862.
We now boast over five hundred Junior Footballers playing in twenty five teams and seven Senior teams competing in Div 1, Div 1 Reserves, C1, C6, Open Womens, Under 18 Mens and Under 18s Women.
North partners with the Gullies as new Major Sponsor


Tea Tree Gully District Football Club is delighted to announce its new partnership with North Projects as our new Major Sponsor for 2019. North are an infrastructure advisory firm that help with the estimation of large civil projects including the $896 million dollar Torrens 2 Torrens project that was recently completed here in Adelaide and the current $11 billion dollar West Gate Tunnel project in Melbourne, Victoria.
One of the companies directors, James Durney grew up in the Tea Tree Gully district and still resides here with his family today. James has some close connections with some of our current players and coaches and is looking forward to being a part of such a great community club.
Please join us in welcoming North and James to our club in the hope that this is the start of a very strong and long lasting relationship.

Latest News and Achievements
Womens Club Players Profile- TBA

Junior Club Players Profile - TBA
Congratulations to the 2018 Division One Premiers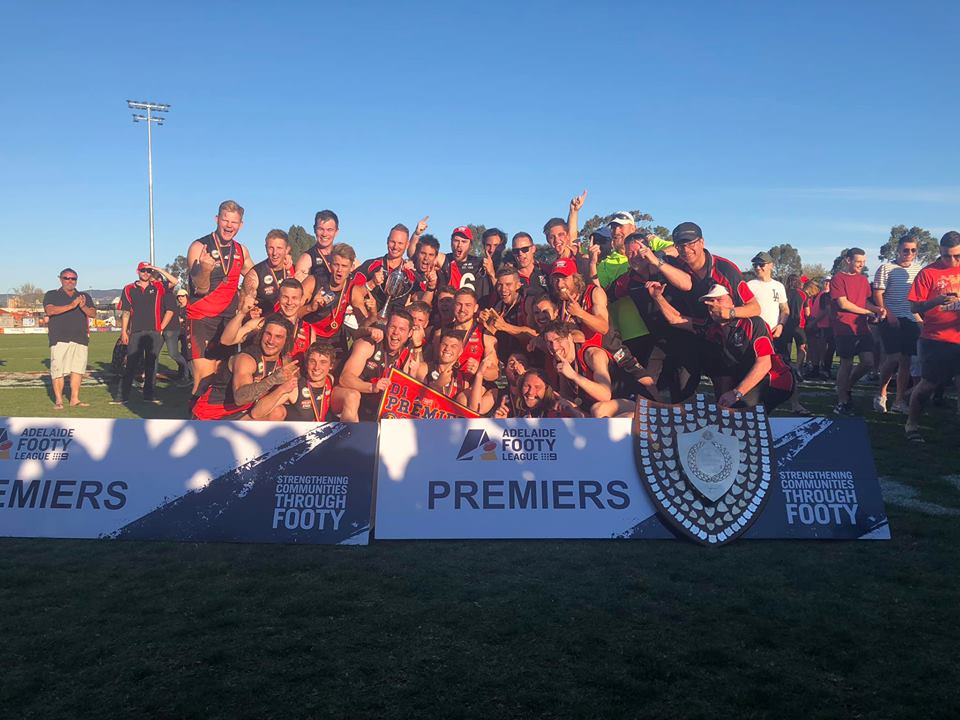 Tea Tree Gully 13 . 15 . 93
Rostrevor OC 9 . 9 . 63
Tea Tree Gully
Goal Kickers:
P. Persinos 3, T. Melville 3, R. Spittle 2, T. Menzel 2, Z. McKay, B. Penney, D. Klaebe
Best Players:
A. McKay, T. Menzel, D. Schoemakers, J. Flynn, J. Huggard
Rostrevor OC
Goal Kickers:
T. Baccanello 2, H. Commane 2, W. O'Malley, J. Butterworth, L. Manuel, P. Dawson, P. Fantasia
Best Players:
S. Jonas, K. Holland, J. Jordan, P. Fantasia, T. Baccanello
All footy supporters get your hands on this book!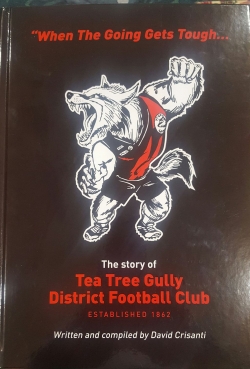 "The story of Tea Tree Gully District Football Club" written by David Crisanti.
Over 530 pages of local football club history, focusing on TTGDFC.
The book has had rave reviews from the media, the CEO of the AFL and many other football clubs.
It explains how TTGFC was formed in 1862 and covers every decade of the club since it was established.
The hard cover book is mainly about the people who worked tirelessly at the club to make it what we see today.
There are relevant statistics included, plus hundreds of photos and over 5300 names of individuals who played or were involved at some time at the Gullies.

This book is a must for anyone with an interest in football, especially if you played at TTG or even against TTG!
There are 40 interesting chapters compiled into "one of the best football club history books ever produced" – stated on the Peter Goers Radio Programme.

Books are available at the club or from the author – David Crisanti, PH: 0467381122

Ian McLachlan Room, Adelaide Oval
The Tea Tree Gully District Football Club is excited to announce the new major sponsor for 2019.